[Revised] [Revised]
Midterm Date and Time 
11:00 A.M. – 12:50 P.M., Monday, April 19th, 2021 (IST) 
The exam will be held on Monday, April 19th, 2021 during class hours. 
This is not an open book exam therefore, no student is permitted to use any books, notes, papers, or any other electronic devices during an in-class examination except with the express permission of the instructor. 
During the exam, you cannot use copy and paste function and cannot right click on mouse. 
Once you finish the exam, hit the 'Next' or 'Finish attempt ...' button. Then, click 'Submit all and finish' TWICE. And make sure to see 'Summary of your previous attempts' page.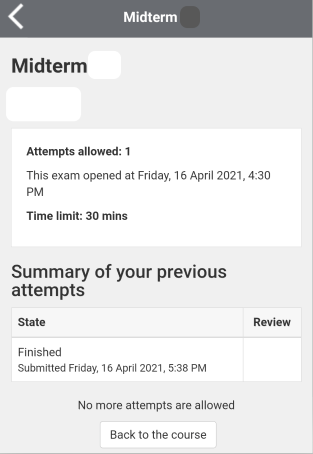 The midterm is ONLY ONE attempt. If you don't take the exam during this time, you will not have another chance. There will be no exception. Please make sure to take the midterm at the given date and time.